Even when you go to work tomorrow, you can stay here
Many people understand there is smell specific to Love hotels, right?
However, now, don't worry. When you stay "FineGarden Osaka Juso", you can stay easily!
So, I recommend this room now!
And, I tell you how this room is!
About Fine Garden Osaka Juso
Fee, system, where the hotel is and other informations are written on other article below.
If you want to know that information, Please Show the article below.
【大阪府大阪市】ファインガーデン大阪十三店
Let's see the room!
Today, I introduce the room, which class is F and is smaller than other rooms. This room are called "compact room(コンパクトルーム)."
Let's go!
Preview the room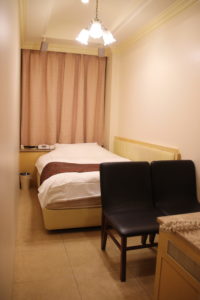 There are NO SMELL specific to common Love Hotels
This room and Business Hotel's room are alike in that of institution.
〇This room is small, so you can RELAX
These are merits I think.
You can STAY EASILY even when yo have to go to work tomorrow.
---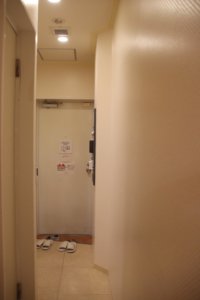 I took this picture from a bed.
Length of this room may be about 7m, so It's little difficult to walk down the corridor. When you enter the door on your Left, you can see a unit bath.
Near the front door, You can see an Automated Fare Adjustment Machine.You can pay fee with CREDIT CARD or CASH. If you have some coupons, Show it to staffs in the Entrance.
---
Machines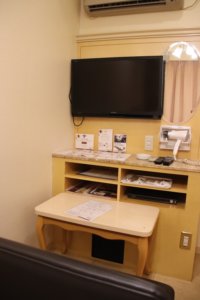 There are Thin Television, Hair Dryer, DVD Player、Air Conditioner.
This TV is little bigger than that at a common house. You don't see TV programs very well because TV is very near the sofa, but far from a bed, so It's not comfortable enough to watch.
---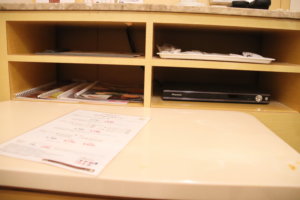 There is a DVD Player. However, you can't watch some Program with Blu-ray.
---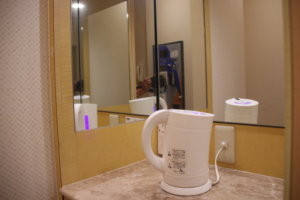 Electric kettle. It can boil a 1.5 litter of water at a time. It is useful for you to cook some noodles.
---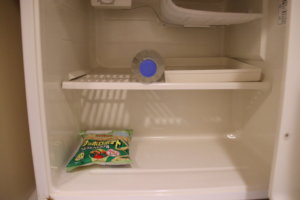 Smaller refrigerator. There are "SAPPORO POTATO" and a bottle of mineral water.
You have them for free!
---
Bathroom
---
The type of this bathroom is a unit bath, which is not common for Love Hotels. There is no enough spaces, so Shampoo, conditioner, Body soap and so on are on the toilet.
I think this hotel would be a business hotel.
I don' t recommend the room type of F class if you want to take a bath with your partner.
Drinks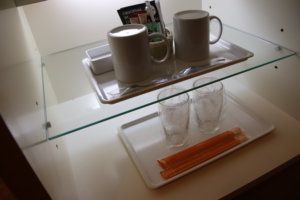 If you want to take a cup of coffee in the morning? Sure, don't worry.
There are sticks of coffee, sugar and milk. And you can use cups and glasses.
There are chopsticks too to eat some Japanese foods!
Other Amenities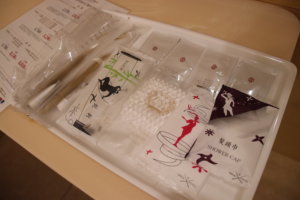 There are toothbrush, comb, shampoo hat, hair band, razor and skin lotion on the TV board.
I don't think no body uses shampoo hat….
In short, You don't need to worry when ladies stay this hotel.
---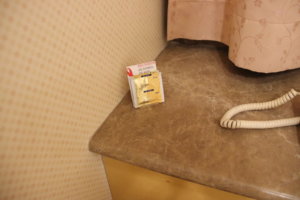 This is a contraceptive device.
---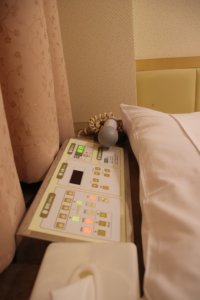 This panel is the devise to regulate Music volume and lights.
And There are a vibration massage devise and box tissue.
まとめ
How is this Hotel??
The reason that this hotel doesn't have a unique smell Common Love Hotels have is that this hotel would be a business hotel.
The bathroom type of this room is an unit bath, this is a point I don't recommend.
However, for the most part, It is comfortable to stay in this room.
I'll visit this hotel next, and write some reports!!